Stand Up Paddle Boarding -Youth "SUP" 101
Sorry, we are no longer accepting registrations for this course. Please contact our office to find out if it will be rescheduled, or if alternative classes are available.
Email Information to a Friend
Description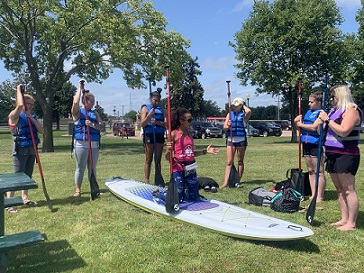 **Due to Social Distancing Safety Standards:
STAND UP PADDLE BOARD classes will be held with new safety measures in place including:
-Smaller groups (max of 4)
-Equipment will be sanitized between students
-Social distancing must be respected by instructors and students at all times possible
The #1 Growing Water Sport "SUP" Stand Up Paddle Boarding hits the Sioux Empire!! Catch the wave of the new craze! Flow and Paddle offers a variety of premier classes and tours such as "Walk on Water","Yoga On Water", and River Paddle Tours and much more! Each class will go through on land instruction, water safety, equipment, how to launch, stroke techniques, turns, wet exits, re-entry from water, and a tour, race, or game at the end of the class. *For this class, it helps to be able to kneel and come to a standing position comfortably. You WILL get wet. Bring towel, dry clothes, sunscreen. See you on the water! Maximum Weight- 350 lbs.
Youth Classes = Ages 8 - 15.
Adult Classes = Ages 16 & up
Flow and Paddle will be set up on the corner of Westlake and Terry. Meet them there before class for lifejacket fitting and safety instructions.