Immerse Yourself in American Sign Language - Beginner
Dates: September 26 - October 31, 2023
Meets: Tu from 6:30 PM to 8 PM
Location: Instructional Planning Center Center Room 1
Registration Fee: $79.00
Sorry, this course is full.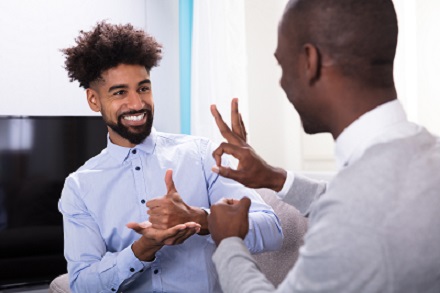 Support communication with individuals with hearing loss, infants, children, and the aging people in your life with American Sign Language! Acquire a functional understanding of ASL including the manual alphabet A - Z, common work-related signs, days of the week, colors, foods, and useful expressions in a natural conversational environment. Immerse yourself in silence to learn this quiet form of communication! Ages 13 and up. If younger, with a participating adult, please call ComEd..
Mark Koterwski
Mark Koterwski graduated from Gallaudet University in 1989. Mark has worked for Communication Service for the Deaf for almost 25 years as a Community Support Specialist. Mark has also worked in following areas: Community Support, Interpreting Mentor Program, Employment Services, American Sign Language Instructor, Advocacy, and Communication Assistance. Mark has worked with deaf, hard of hearing, and hearing people with communication barriers for over 30 years in the states of Maryland, Washington D.C., Illinois, California, and South Dakota.
| Date | Day | Time | Location |
| --- | --- | --- | --- |
| 09/26/2023 | Tuesday | 6:30 PM to 8 PM | Instructional Planning Center Center Room 1 |
| 10/03/2023 | Tuesday | 6:30 PM to 8 PM | Instructional Planning Center Center Room 1 |
| 10/10/2023 | Tuesday | 6:30 PM to 8 PM | Instructional Planning Center Center Room 1 |
| 10/17/2023 | Tuesday | 6:30 PM to 8 PM | Instructional Planning Center Center Room 1 |
| 10/24/2023 | Tuesday | 6:30 PM to 8 PM | Instructional Planning Center Center Room 1 |
| 10/31/2023 | Tuesday | 6:30 PM to 8 PM | Instructional Planning Center Center Room 1 |
Related Courses