LEVEL 2 & UP (INTERMEDIATE) Piano Lessons- SUMMER 2023 WEDNESDAYS @ OSCAR HOWE Julie Ostroot
Dates: June 14 - August 9, 2023
Meets: W from 12:30 PM to 4:30 PM
Location: Oscar Howe Elementary #145
Registration Fee: $162.00
There are 5 openings remaining at this time.
There are 5 openings remaining at this time.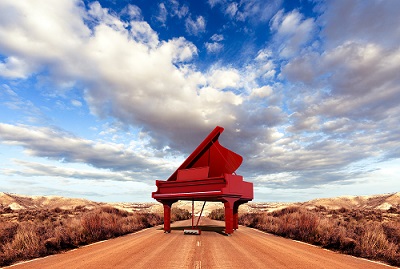 Music lessons spur emotional and behavioral growth for youth and adult! Join our trained piano instructor for weekly individual ½ hour lessons. Students will need to purchase instruction book(s) (please read emailed confirmation receipt when you register, for exact details) and have access to a piano to practice at home. Whether a beginner or continuing your music endeavors - train the brain!
" Develops fine motor skills
" Develops attention skills, anxiety management and emotional control
" Improves verbal memory and literacy
" Benefits brain plasticity throughout a lifespan
" Develops multisensory processing skills
" Increases blood flow in the brain
" Reduces academic achievement gaps

Oscar Howe Elementary #145
Oscar Howe Elementary
2801 S Valley View Road
Sioux Falls, SD
MAP & DIRECTIONS
Julie Ostroot
Julie Ostroot has been teaching in the SF area for several years. She serves as an organist at Asbury Methodist and also works as an Education Assistant at Cleveland Elementary. Having worked in music retail as well, she's familiar with several piano methods and teaching styles. Julie has her B.A. Degree in Music from Augustana and has taught lessons at SF Lutheran and the Augie Preparatory program. She also enjoys biking and jewelry making.
| Date | Day | Time | Location |
| --- | --- | --- | --- |
| 06/14/2023 | Wednesday | 12:30 PM to 4:30 PM | Oscar Howe Elementary #145 |
| 06/21/2023 | Wednesday | 12:30 PM to 4:30 PM | Oscar Howe Elementary #145 |
| 06/28/2023 | Wednesday | 12:30 PM to 4:30 PM | Oscar Howe Elementary #145 |
| 07/05/2023 | Wednesday | 12:30 PM to 4:30 PM | Oscar Howe Elementary #145 |
| 07/12/2023 | Wednesday | 12:30 PM to 4:30 PM | Oscar Howe Elementary #145 |
| 07/19/2023 | Wednesday | 12:30 PM to 4:30 PM | Oscar Howe Elementary #145 |
| 07/26/2023 | Wednesday | 12:30 PM to 4:30 PM | Oscar Howe Elementary #145 |
| 08/02/2023 | Wednesday | 12:30 PM to 4:30 PM | Oscar Howe Elementary #145 |
| 08/09/2023 | Wednesday | 12:30 PM to 4:30 PM | Oscar Howe Elementary #145 |