Photography 101 - Lights, Camera, Action!
Dates: November 5, 2023
Meets: Su from 6 PM to 8 PM
Location: West Sioux Studios
Registration Fee: $89.00
Sorry, we are no longer accepting registrations for this course. Please contact our office to find out if it will be rescheduled, or if alternative classes are available.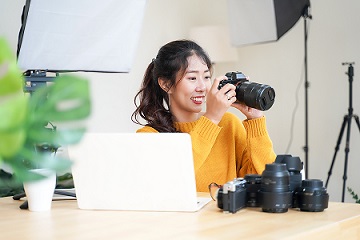 If you love photography, need a refresher from that high school or college photo course you took, or want to jump in for the first time, this the perfect class for you! We'll cover how to use your camera, posing, lighting, composition, business basics, and so much more! Leave class feeling confident to pick up your camera and create! Ages 14 & up.
West Sioux Studios
1810 W. 50th St. Sioux Falls, SD https://maps.app.goo.gl/5LkuTW64JCYLEWsg6
Josh Sweets
Josh and Maggie Sweets own, operate, feature professional photo shoots, and instruct classes West Sioux Studios. Our photography studio is a little bit different than the average studio in that it is completely open to the public by appointment! We currently have two fully stocked professional studios with lighting, props, backdrops, and seating for local hobbyists, amateurs, or professional photographers to book an hour at a time, or to join us as a member and receive open access to the space.