Friday Night Dance Lessons & Big Band Dancing at El Riad
Dates: November 10, 2023
Meets: F from 6:45 PM to 10:30 PM
Location: El Riad Shrine
Regsitration Per Person: $16.00
Sorry, we are no longer accepting registrations for this course. Please contact our office to find out if it will be rescheduled, or if alternative classes are available.
Make it a fabulous and fun night on the town! Learn a few simple dance steps then dance the night away to live music on the spacious wooden dance floor at the monthly Big Band Dance in Sioux Falls. Individuals, couples and groups of friends and family are welcome! A beginners dance lesson starts out the evening from 6:45-7:30 p.m. and includes admission to the dance that follows until 10:30pm. Opportunity to pick up other dance moves and learn to dance a few popular group dances throughout the evening. Business Casual or dressy attire is encouraged.
Lesson hosted by the Ballroom Dance Club of Sioux Falls. Ample free parking in the lot on the east side of the El Riad, 510 S Phillips.
Fee Breakdown
| Category | Description | Amount |
| --- | --- | --- |
| Course Fee (Basic) | Regsitration Per Person | $ 16.00 |
| Course Fee (Alternate) | Registration Fee Per Couple | $ 32.00 |
El Riad Shrine
El Riad Shrine
510 S Phillips Avenue
Sioux Falls, SD
Downtown
MAPS & DIRECTIONS
Lisa Myhre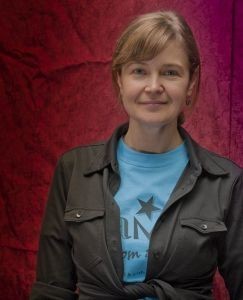 Lisa brings her joy and passion for teaching and a lifelong experience in dance and the arts to the community! She has a Theater degree from Gustavus Adolphus College with an additional focus on choreography and dance. Lisa is a certified ballroom dance instructor and has been teaching ballroom, Latin, country, and swing dance since 2000 when she began training and teaching with Arthur Murray Minneapolis. Locally she has taught at DANCE Ballroom & Studio and through Community Education.
Lisa is currently a project manager and community ArtReach director for BronzeAge Art Casting in Sioux Falls, SD! She started with the foundry at it's inception in 2007 and has worked in most aspects of the lost-wax casting process from mold making to molten metal.
Related Courses