"Country Day Adventures" Story and Craft Time
Dates: November 4, 2023
Meets: Sa from 10 AM to 12 N
Location: Instructional Planning Center North Room C
Registration Fee- 1 Adult and 1 Child: $39.00
Sorry, we are no longer accepting registrations for this course. Please contact our office to find out if it will be rescheduled, or if alternative classes are available.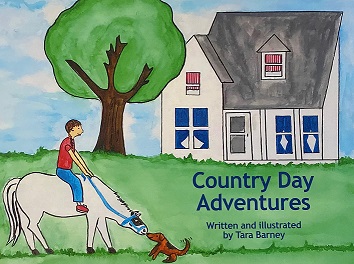 Sit back, relax, and join artist and author Tara Barney on a country day adventure on the farm! A painting of the artist in front of the historic farm house where she lived as a child will transport everyone back to her childhood, as conversations are sparked about the medium and the feelings the painting and book evokes! Enjoy this presentation, story, and craft time while engaging the senses as you see and touch a real old barn wood door! Get comfy and cozy as Tara reads her book, "Country Day Adventures" to the class and then complete a mosaic craft straight from the pages! Receive your very own signed copy of the book to take home and start off on your own childhood adventure! Ages 3-8. Materials included.
Tara Barney
Tara Barney grew up in rural Iowa and South Dakota. She attended Southeast Technical College in 1990 and earned an Associate's Degree in Graphic Arts and Printing. Later, she furthered her education in Art and Humanities at Colorado State University.
Since 2002, she has sold her fine arts, crafts and children's books under the Red Door Creations brand! You can see her work at Rehfeld's Art and Framing, The Old Courthouse Museum Gift Shop, and the South Dakota Arts Museum Gift Shop. In 2023 she was a featured artist in Empire Magazine and Shoutout Colorado! Tara was inspired to write and illustrate her children's book, "Country Day Adventures" when she visited a historic farm house where she lived as a child. The book is based on true events from her childhood and has an activity on every other page. Tara is a lifelong learner who enjoys attending art workshops and classes! She lives in Sioux Falls, SD with her husband, son, and dogs.