Russian - Russian - Beginner II - The Next Step
Dates: November 15 - December 20, 2021
Meets: M from 6 PM to 8:30 PM
Location: Instructional Planning Center North Room C
Registration Fee: $79.00
There are still openings remaining at this time.
Further your understanding of Russian culture through its rich language. Continue with basic conversational skills, increase vocabulary, practice new communication situations. This 2nd step in Beginner Russian will allow further practice to ask questions, understand answers, get directions, convey health issues abroad, and touch on geography, culture-traditions, and holidays. Russian Beginner I class is a prerequisite.
Notes:
Welcome back to continue your Russian learning experience! Instructional Planning Center>br> 201 East 38th Street, SF
- Please use Door B - north along the sidewalk from flagpole
IPC MAP
Instructional Planning Center>br> 201 East 38th Street, SF
- Please use Door B - north along the sidewalk from flagpole
IPC MAP
Registering -?
Early registration is encouraged as classes fill on a first-come, first served basis. All registrations must be accompanied by the appropriate fee before registration is final. Our instructors cannot collect registration forms or money in class.?
Class Cancellations
Community Education reserves the right to cancel any class?due to insufficient enrollment. Refunds or class credit are given if Community Education cancels the class.
Emergency/Severe Weather?Cancellations
In questionable weather conditions, listen for class cancellations on local radio and television stations. Participants will not be called individually. When school is canceled, Community Education classes are canceled. Canceled sessions will be?rescheduled.
Unable to Attend?
Community Education Class Including Cancellation Policy?If you are unable to attend a class as planned, you must call the Community Education office at least 3 business days prior to your first class meeting. With a 3 business day notice, we will be happy to transfer you to another available class or apply a full class credit to your Community Education account to use towards another class.?
*Class credits expire after one year and cannot be redeemed for cash.*
Community Education Contact Information
201 E. 38th St.
Sioux Falls, SD 57105
(605) 367-7999
Yelena Balashova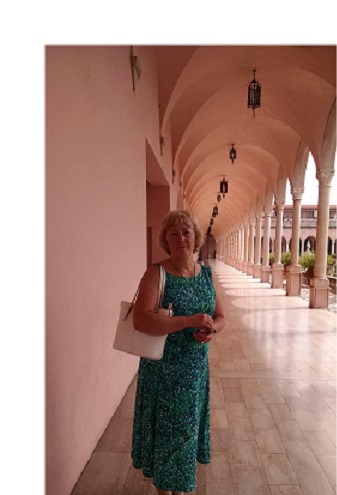 I was raised in Estonia in a Russian family. I earned by Masters Degree in Teaching Education from Estonia and Russia. Our family moved to the United States in 1999. Before our move, I was the principal of a Daycare-Kindergarten school for 18 years, I have worked in the ELL program for the Sioux Falls School District for 4 years. I have taught Russian language through the Ukranian Church, the Philadephia Language Center and through private lessons. I believe in Community Education because it is an affordable way for students to expand their knowledge without the cost of college. The knowledge of languages helps to understand cultures, meet new friends with the same interests, and make a connection to different countries.
| Date | Day | Time | Location |
| --- | --- | --- | --- |
| 11/15/2021 | Monday | 6 PM to 8:30 PM | Instructional Planning Center North Room C |
| 11/22/2021 | Monday | 6 PM to 8:30 PM | Instructional Planning Center North Room C |
| 11/29/2021 | Monday | 6 PM to 8:30 PM | Instructional Planning Center North Room C |
| 12/06/2021 | Monday | 6 PM to 8:30 PM | Instructional Planning Center North Room C |
| 12/13/2021 | Monday | 6 PM to 8:30 PM | Instructional Planning Center North Room C |
| 12/20/2021 | Monday | 6 PM to 8:30 PM | Instructional Planning Center North Room C |