Model Railroads 101 -Module Building
Dates: November 9-30, 2021
Meets: Tu from 6:30 PM to 8 PM
Location: Career Technical Education Academy
Registration Fee: $65.00
There are still openings remaining at this time.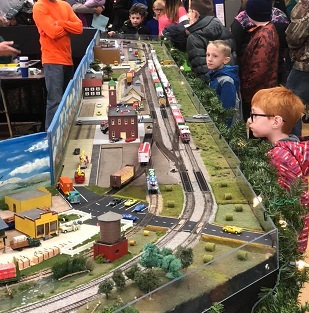 All aboard! Get on track to learning the basics of how to get started in model railroading from members of the Dakota Southeastern Division (DSED) Model Railroad Club. Receive hands on experience in creating an N-scale T-Trak module. T-Trak meets international standards allowing modules to be joined with other T-Trak modules to build a miniature world of model trains. A prebuilt 2ft module base will be provided. Participants will add track, electrical and scenery to the module which is theirs to take home. One session will be a tour of two model railroad home layouts that will give inspiration to what can be done or how to build an in-home model railroad. Families are encouraged to participate together on building a module. One module is included with registration fee. Additional modules may be purchased with advance notice for $50. Family Reg - up to 2 adults and 2 children (or 1 adult and 3 children)
Notes:
CTE Acedemy 4700 W Career Cir, Sioux Falls, SD 57107 Room D119 Use Door A, turn right down hallway to Rm D119, Engineering Lab. MAP: https://goo.gl/maps/MCkcGjcSViD3tiQAA Class includes the first module base. Additional modules are available for $50. Dates November 9, 16, 23, 30. The third session will be tours two instructors' model railroad home workshops! p>
Class Cancellations
Community Education reserves the right to cancel any class due to insufficient enrollment. Refunds or class credit are given if Community Education cancels the class.
Emergency/Severe Weather?Cancellations
In questionable weather conditions, listen for class cancellations on local radio and television stations. Participants will not be called individually. When school is canceled, IN PERSON Community Education classes are canceled. Canceled sessions will be rescheduled.
Unable to Attend?
Community Education Class Including Cancellation Policy
*Class credits expire after one year and cannot be redeemed for cash.* *
Community Education Contact Information
201 E. 38th St.
Sioux Falls, SD 57105
(605) 367-7999