Woodturning - Hollows & Vases
Dates: May 10, 2022
Meets: Tu from 6 PM to 8:30 PM
Location: McCrossan Boy's Ranch Voc. Train Ctr
Registration Fee: $49.00
There are 5 openings remaining at this time.
There are 5 openings remaining at this time.
Please note: this course has Prerequisites
*Prerequisites: Woodturning 101 AND one additional woodturning course (two courses) must me completed prior to this class.
Learn the process of hollowing to create a decorative woodturned vase! Hollowing is used to create woodturned vessel projects or to reduce the weight of your projects! This hollowing technique uses a spindle gouge to back hollow into the end grain of your piece of wood as you turn. Let the creativity flow! *Prerequisites: Woodturning 101 or equivalent experience. Ages 13 and up with participating adult.

McCrossan Boy's Ranch Voc. Train Ctr
Take Exit 395 off I-90, Proceed North on Marion Rd/471st Ave to entrance on Marion Rd ...OR... Follow Marion Rd north past I90 to the Marion Rd entrance (south of 260th St on Marion Rd) The Vocational Training Center is in building 8 on the East end of the campus. https://g.page/McCrossanBoysRanchSF?share
Siouxland Woodturners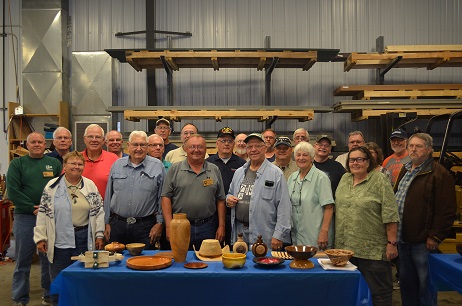 The Siouxland Woodturner's (SWT) is a local chapter of the American Association of Woodturners (AAW). The AAW is an international, not-for-profit organization dedicated to the advancement of the woodturning craft. Our mission is to provide information, education, a meeting place, and an effective organization for all who are interested in turning wood.