Fused Glass Art - Cactus Panel
Dates: April 17, 2021
Meets: Sa from 6 PM to 9 PM (note new time)
Location: Art Glass Co-op
Registration Fee: $55.00
Sorry, this course is full.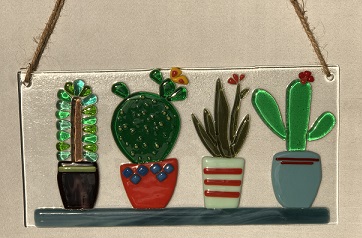 **April 17th Class Time Changed to 6pm-9pm**
March 6th is still offered 1p-4p.
Cacti and succulents - the latest craze captivating the world of plants! Learn techniques of glass cutting and designing to create your unique, prickled, fused glass cactus. Embrace your inner gardener - no green thumb required! Bring some green to your environment! Materials provided.
Kristi Nimick
I first discovered working with glass when I was in high school and have loved it ever since. I enjoy working with all kinds of glass and am always playing with a new project. It's always exciting to learn how to make new glass designs and sharing them with friends. My inspiration is gathered from my family, friends, and everything around me.
Related Courses