Rivets and Cold Connections for Jewelry
There are 4 openings remaining at this time.
Email Information to a Friend
Description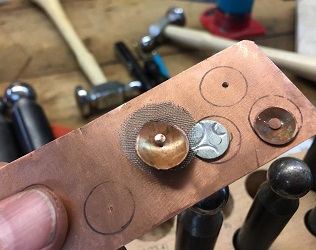 Rivets are a versatile Cold Connection— using NO torch. Make a JOE'S Garage Rivet Sampler. Starting with plain round wire that perfectly fits into matching holes, you will complete 8 rivets that include a simple joining rivet, a hidden flush rivet, a hinge rivet, a tube rivet, a fine silver headpin rivet, and several decorative rivets, like a layered flower, and screw head style. For the multi-media artist in you, vary your riveting materials from sandwiched metals and screening, to fabric, leather and paper. Each sample can be the start of your next creation. No experience necessary.