Table for 20! Eat, Stay, Love - Hygge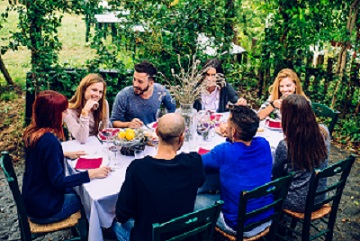 Hygge - H-y (oo) - gge (geh) - "a form of everyday togetherness," "a pleasant and highly valued everyday experience of equality, personal wholeness, and a spontaneous social flow." Good conversations, scrumptious food, close friends or new friends; we've got your plan for the hygge-est of dinner parties! Join Chef John Gilbertson and Floras & Bouquets entrepreneur Monica Pugh at her urban flower farm in the heart of Sioux Falls for this sit-down dinner for twenty! Music entertainment provided by White Wall Sessions artist Sara Bainter while surrounded by nature! Dinner menu based on local bounty and nature's gifts! Chef John and family will craft and create a one-of-a-kind menu. Plan on protein and plant foods, a dessert, and a harmonious natural presentation. No alcohol served. Join us for this unique Hygge dinner party!

There are no scheduled sessions at this time. Sign up to be notified when this course is available.