World of Tea - Tea 101: A Beginner's Guide
Dates: October 14, 2023
Meets: Sa from 1 PM to 3 PM
Location: Instructional Planning Center
Registration Fee: $35.00
There is only one opening remaining at this time.
There is only one opening remaining at this time.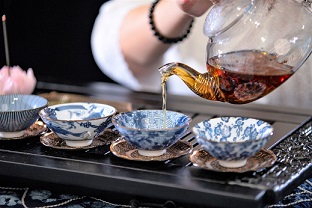 Heard of the health benefits of tea but not sure where to start? Tired of tea bags and wanting to explore loose leaf but it seems like a hassle? Just willing to give any hot beverage a shot to find some comfort during the cold season? Join Tea Sommelier Pauliina Parris for this introductory class into the world of whole leaf tea! We will cover the basics about different tea types, essential teaware, water for tea, how to prepare, shop for and store tea. You will go home with 4 samples of high-quality loose leaf tea and all the information you need to start enjoying the many benefits of tea for your body, mind and spirit.
Fee Breakdown
| Category | Description | Amount |
| --- | --- | --- |
| Course Fee (Basic) | Registration Fee | $ 35.00 |
| Course Fee (Alternate) | Registration Fee for Two | $ 65.00 |
Pauliina Parris
I am a certified Tea Sommelier, world traveler and East Asia specialist who spent almost a decade living in Korea and China. I love pure, traditionally crafted single origin tea, which to me is like travel in a cup – either to a distant land, or deeper within. As a recent transplant to South Dakota, I am excited to launch my new business – Shall We Tea – and offer tea education, tea tastings and tea meditation to a growing community of tea lovers in Sioux Falls!