Backyard Chicken Keeping with Fruit of the Coop!
Dates: October 3, 2023
Meets: Tu from 6 PM to 8 PM
Location: Instructional Planning Center
Registration Fee: $35.00
Sorry, we are no longer accepting registrations for this course. Please contact our office to find out if it will be rescheduled, or if alternative classes are available.
Love fresh eggs and want to become more self-reliant and resilient? The Sioux Falls City Council passed an ordinance allowing you to raise six chickens in your backyard. Learn all aspects of backyard flock management from raising chicks to coop and run requirements, feed and nutrition, common health issues and more.
Watch! https://www.keloland.com/news/chicken-class-teaches-you-to-rule-your-roost/

Fee Breakdown
| Category | Description | Amount |
| --- | --- | --- |
| Course Fee (Basic) | Registration Fee | $ 35.00 |
| Course Fee (Alternate) | Registration Fee for Two | $ 45.00 |
Stephanie Peterson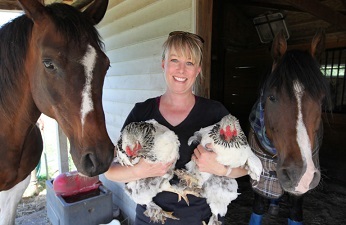 Stephanie is a graduate of Rapid City Stevens High School and Augustana University, where she earned a Bachelor of Arts degree in Political Science. She has eight years of political experience in Washington, DC where she worked on Capitol Hill for former Senator Tom Daschle.
Moving home to South Dakota in 2014 with her husband and two teenage sons has allowed Stephanie to reconnect with her roots and her passions. Last year, she founded Fruit of the Coop, LLC, a wholesale egg business, on their farm near the Big Sioux River and Brandon, South Dakota. In addition to selling eggs from her own flock of heritage chickens, she sources eggs from other small flocks within the Sioux Empire. All the chickens are pasture-raised on natural grains and forage, which gives the yolks of their eggs a deep golden color and strong shells. You can find her eggs at Cherry Rock Farm and Glory Garden (a local CSA) and served at Josiah's, Breadico and Morrie's Steakhouse. Stephanie believes in bringing local food to Sioux Falls area establishments and helping to revitalize small and mid-level agriculture in rural economies and communities. She also serves on the board for Dakota Rural Action and is active in DRA's local chapter, Homegrown Sioux Empire.
Related Courses