Photography Studio- Start a Successful Photography Business
Dates: June 25, 2023
Meets: Su from 6 PM to 9 PM
Location: West Sioux Studios
Registration Fee: $99.00
There are still openings remaining at this time.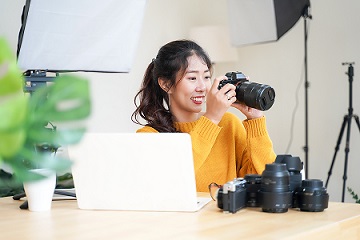 If You have EVER thought of turning your love of photography into a business, this is the class for you! Taught by two experienced local photography professionals, consider this your one stop shop for all the info you need! Bring all of your questions - How do I start? Where do I get clients? How much should I charge? What gear do I need? We will answer them all… and then some! You don't want to miss this opportunity to learn what it takes to strike out and build your own photography empire! Workbook provided! Ages 16 & up.
Josh Sweets
Josh and Maggie Sweets own, operate, feature professional photo shoots, and instruct classes West Sioux Studios. Our photography studio is a little bit different than the average studio in that it is completely open to the public by appointment! We currently have two fully stocked professional studios with lighting, props, backdrops, and seating for local hobbyists, amateurs, or professional photographers to book an hour at a time, or to join us as a member and receive open access to the space.